Product Summary
The EPCS16SI16N is Serial Configuration Device.
Parametrics
EPCS16SI16N absolute maximum ratings: (1)Supply voltage for EPCS1, EPCS4, and EPCS16 : -0.6 to 4.0 V; (2)DC input voltage for EPCS1, EPCS4 and EPCS16 : -0.6 to 4.0 V; (3)DC VCC or GND current : 15 mA; (4)DC output current per pin : -25 to 25 mA; (5)PD Power dissipation : 54 mW; (6)Storage temperature : -65 to 150 ℃; (7)Ambient temperature : -65 to 135 ℃; (8)Junction temperature : 135 ℃.
Features
EPCS16SI16N features: (1)Easy-to-use four-pin interface; (2)Low cost, low-pin count, and non-volatile memory; (3)Low current during configuration and near-zero standby mode current; (4)2.7-V to 3.6-V operation; (5)EPCS1 and EPCS4 available in 8-pin small outline integrated circuit (SOIC) package. EPCS16 available in 8-pin or 16-pin SOIC packages. EPCS64 and EPCS128 available in 16-pin SOIC package; (6)Re-programmable memory with more than 100,000 erase/program cycles; (7)Write protection support for memory sectors using status register bits; (8)In-system programming support with SRunner software driver; (9)Delivered with the memory array erased.
Diagrams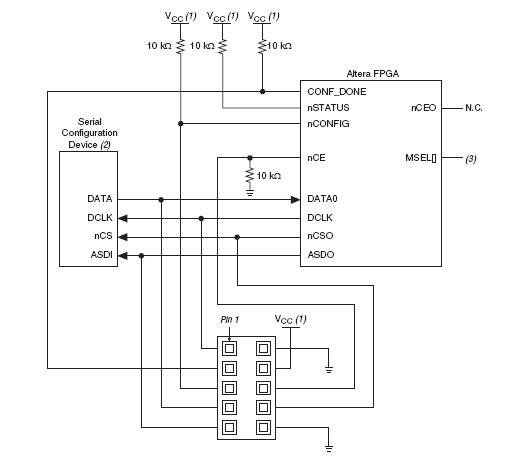 Image
Part No
Mfg
Description
Pricing
(USD)
Quantity

EPCS16SI16N

Altera

IC CONFIG DEVICE 16MBIT 16-SOIC

Data Sheet


Image
Part No
Mfg
Description
Pricing
(USD)
Quantity

EPCS16SI16N

Altera

IC CONFIG DEVICE 16MBIT 16-SOIC

Data Sheet



EPCS16SI8N

Altera

IC CONFIG DEVICE 16MBIT 8-SOIC

Data Sheet



EPCS64SI16N

Altera

IC CONFIG DEVICE 64MBIT 16-SOIC

Data Sheet



EPCS1

Other



Data Sheet

Negotiable

EPCSC4T

Altech

Terminal Block Tools & Accessories End Plate

Data Sheet



| | |
| --- | --- |
| 0-1: | $0.26 |
| 1-50: | $0.26 |
| 50-100: | $0.24 |
| 100-500: | $0.23 |


EPCSC4T1-2

Altech

Terminal Block Tools & Accessories End Plate

Data Sheet



| | |
| --- | --- |
| 0-1: | $0.26 |
| 1-50: | $0.25 |
| 50-100: | $0.24 |
| 100-500: | $0.23 |