Product Summary
The BTS7750G is a TrilithIC. It contains three dies in one package: One double high-side switch and two low-side switches. The drains of these three vertical DMOS chips are mounted on separated leadframes. The sources are connected to individual pins, so the BTS7750G can be used in H-bridge- as well as in any other configuration. Both the double high-side and the two low-side switches of the BTS7750G are manufactured in SMART SIPMOS?technology which combines low RDS ON vertical DMOS power stages with CMOS control circuitry. The high-side switch is fully protected and contains the control and diagnosis circuitry. Also the low-side switches are fully protected, the equivalent standard product is the BSP 78.
Parametrics
BTS7750G absolute maximum ratings: (1)Supply voltage VS: -0.3 to 42V; (2)Supply voltage for full short circuit protection VS(SCP): 28 V; (3)HS-drain current* IS: -7.5A; (4)HS-input current IIH: -5 to 5mA; (5)HS-input voltage VIH: -10 to 16V.
Features
BTS7750G features: (1)Quad D-MOS switch driver; (2)Free configurable as bridge or quad-switch; (3)Optimized for DC motor management applications; (4)Low RDS ON: 70mΩ high-side switch, 45mΩ lowside switch (typical values @ 25℃); (5)Maximum peak current: typ. 12 A @ 25℃; (6)Very low quiescent current: typ. 5μA @ 25℃; (7)Small outline, enhanced power P-DSO-package; (8)Full short-circuit-protection; (9)Operates up to 40 V; (10)Status flag diagnosis; (11)Overtemperature shut down with hysteresis; (12)Internal clamp diodes; (13)Isolated sources for external current sensing; (14)Under-voltage detection with hysteresis; (15)PWM frequencies up to 1 kHz.
Diagrams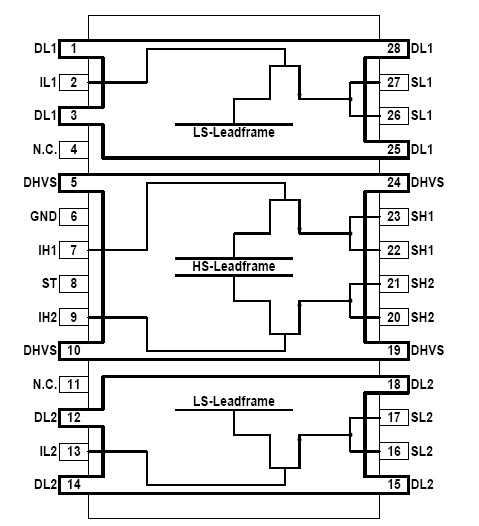 Image
Part No
Mfg
Description
Pricing
(USD)
Quantity

BTS7750G

Infineon Technologies

Power Switch ICs - POE / LAN QUAD D-MOS SW DRIVER TRILITH

Data Sheet



| | |
| --- | --- |
| 0-490: | $2.38 |
| 490-500: | $1.93 |
| 500-1000: | $1.63 |
| 1000-2000: | $1.54 |


BTS7750GP



IC TRILITHIC SWITCH D2PAK-15

Data Sheet

Negotiable

BTS7750GT



IC SW TRILITHIC 115MOHM PDSO28

Data Sheet

Negotiable